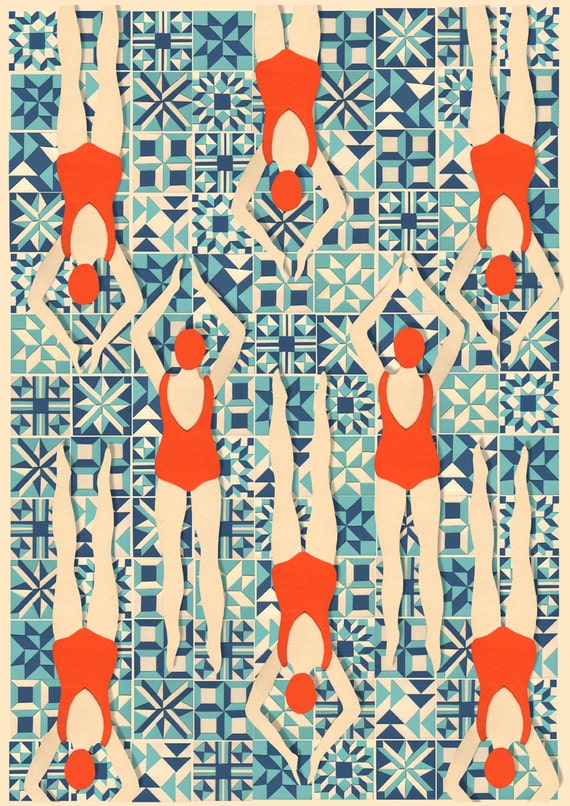 This lovely swimming print available here. Yes, I seem to have lot of swimming-related Etsy favourites!
I've mentioned recently that I've been trying to swim a bit more. Exercise is very important for my heart condition. Fortunately, I walk pretty much everywhere, which means I'm regularly doing something active, but I've been getting increasingly frustrated with myself for not managing to take a more focussed approach. The amount of walking I do is better than nothing and keeps me ticking over, but I really want to try to use exercise to IMPROVE my heart function. I was trying to find a way for somebody else to keep me on track and tell me off if I started flagging, but the NHS wouldn't provide anything and hiring a drill sergeant at the gym wouldn't fit in with the rest of my life. I felt like I needed some structure or goal, though, in order to keep me going, so I came up with a little swim challenge for myself.
I'm aiming to swim the equivalent of the Channel in six months. This sounds pretty pathetic when you think that people generally swim the Channel in a oner, but it works out at an average of 52 lengths per week, which seems like a good amount for me - just enough so that I can't skip swim sessions for no reason, but not so much that it's unachievable if I genuinely can't make it along some weeks. I'm one week into the challenge so far and have actually managed an impressive 96 lengths this week - got to make good use of the temporary live-in baby-sitters while we have them!
I can see that having the "official" challenge is already working in the way I'd hoped it would. I wasn't feeling great yesterday and every length was a struggle. Ordinarily, I might have allowed myself to stop after 10 lengths on a day like that, but I was thinking how I'd be away for a week soon so I had to make the best use of the time I had, and I ended up doing a much more respectable 44 lengths as a result.
Frustratingly, I'm not really in control of my own health. Most people would be be able to expect to see some cardiovascular benefit from something like this, but not so me. I had my regualr exercise test recently so I know what my
VO2 reading
was. It hadn't changed since it was tested four months earlier and I'm hoping, when it's tested again in around four months' time, that I'll see an improvement and be able to give myself an official pat on the back, but I know this is not really something that's in my control - it might get worse despite all this and, even if it improves, that might have more to do with my medication and pacemaker doing what they're meant to (but don't always) do. I'm trying to look on it in terms of doing something has got to be better than doing nothing and I need to try to do everything I can to stay well. The possible lack of real results is why I think it's so important for me to have these other artificial goals to work towards.
Anyway, I've set up a wee ticker thingy so that I can keep track of my Channel-swimming progress. You'll see it if you scroll down to the bottom of my blog. 96 lengths down, 1264 to go!